Downloadable Content for The Evil Within includes two story packs that revolve around Juli Kidman, one challenge pack where you play as The Keeper, and a pre-order add-on that gives you bonus items and an exclusive weapon at the beginning of the game.
Season Pass
Edit
The 
Season Pass
 will include three add-on packs,
Usually this Pass is cheaper than all three DLCs combined, but check for any possible discounts in the steam summer sales.
If the summer sales don´t low the price of this season pass, see if it lowers the DLCs prices´, then buy them separately.
The Fighting Chance Pack
Edit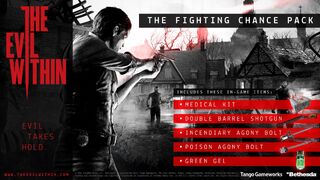 The Fighting Chance Pack
 is a pre-order add-on for 
The Evil Within
. It is currently unknown whether the pack will be released as paid downloadable content after launch. The pack contains the following items: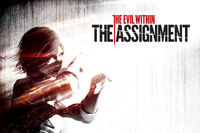 The Assignment is the first DLC for 
The Evil Within
. It will revolve around
Juli Kidman
, delving into her past and revealing what her true motives are. It was released on March 10, 2015 for a price of $9.99 on Steam.
In this DLC we play mostly on stealth mode, without any guns to kill the enemies forcing us to use the environment and melee weapons. This DLC is continued on The Consequence.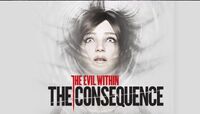 Kidman continues where she left off, with lots of new toys for her to play with in this second DLC for
The Evil Within.
The release date is April 21, 2015 for PS3, PS4, PC, Xbox One, and Xbox 360.
This DLC much like The Assignment is mostly in stealth mode, you dont use guns for the most part.
The Evil Within's final DLC, titled "The Executioner," will be available from May 26 and will allow players to take control of The Keeper, an enemy that appeared in the main campaign.
Interestingly, the DLC adopts a first-person perspective, instead of the game's usual over-the-shoulder third-person perspective.
As The Keeper, players will have access to a wide-range of devastating weapons and return to the Victoriano Estate "for a rematch with the most iconic adversaries of The Evil Within."
The previous DLC for The Evil Within, The Consequence, completed the story of Juli Kidman that began with The Assignment. The Assignment, The Consequence, and The Executioner are included with The Evil Within's $20 DLC pass.
Ad blocker interference detected!
Wikia is a free-to-use site that makes money from advertising. We have a modified experience for viewers using ad blockers

Wikia is not accessible if you've made further modifications. Remove the custom ad blocker rule(s) and the page will load as expected.