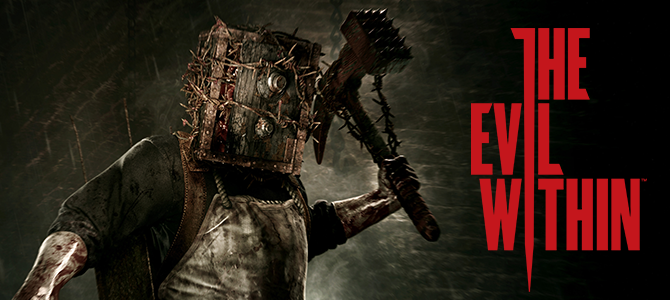 CREATE ART. SCARE YOUR FRIENDS. WIN A HIGH-END VIDEO CARD. 
THINK OUTSIDE OF THE BOXMAN, PRESENTED BY BETHESDA! 
In the spirit of Halloween, we've partnered with Bethesda Softworks and one of 2014's most terrifying games, The Evil Within, for our "Thinking Outside of the Boxman Halloween Sweepstakes."
In time for Halloween, Bethesda has provided us with a web-friendly 3D models for one of the game's iconic villains, Boxman. Between now and October 31st, we want you to take these models as inspiration for creating your own terrifying costume or fan art. Entries into the sweepstakes will give you a chance to win prizes like an NVIDIA GeForce GTX 760 graphics card and a The Evil Within poster signed by the father of survival horror, Shinji Mikami!
Note: To view the 3D models, we recommend using Chrome or Firefox.
How To Enter
First, Create a Wikia account!
Second, in the comments section, submit your costume or fan art submission inspired by The Evil Within (use of Boxman is optional). Costume can be simple or highly intricate… it's up to you. If you prefer to create fan art for the game, that's fine too.
To add a photo, simply click the "Add Photo" button when leaving a comment.
During the sweeps, we'll share some of our favorite designs here on the blog.
WINNERS
Grand Prize Winners!
1. Slasherjpc
2. Saimaxasad
3. Dreznal
4. Nigelemack
5. Unitologist
Runners up prizes!
1. EvilRubix
2. Freakshow_ES13
3. Petardinho
4. AndrewU
5. Vynzent
Rules
Must be 18 or older. Eligible entrants MUST live in USA, Canada, or the United Kingdom. Check out the official rules for details. Ten lucky winners will win the following:
The first five names eligible will receive our Grand Prize: One (1) NVIDIA GeForce GTX 760 graphics card and one (1) The Evil Within poster signed by the game's creative director, Shinji Mikami.
The next five eligible winners will receive One (1) The Evil Within poster signed by the game's creative director, Shinji Mikami.
The sweepstakes ends on Halloween (October 31st 2013) and winners will be notified shortly afterwards.
Ad blocker interference detected!
Wikia is a free-to-use site that makes money from advertising. We have a modified experience for viewers using ad blockers

Wikia is not accessible if you've made further modifications. Remove the custom ad blocker rule(s) and the page will load as expected.